, 71% of consumers who have had a good social media service experience with a brand are likely to recommend it to others. Yet, 96% of the people that discuss brands online
.
Even if you embrace the wonders of influencer marketing, you still need to operate some social accounts yourself. Often the goal of influencer marketing is to direct visitors to your social sites. You should consider influencer marketing to be merely an extension of your business' social marketing strategy.
Here is our 8-step social media marketing strategy for businesses in 2018.
---
8 Step Social Media Marketing Strategy for Businesses in 2018:
---
1. Set Relevant and Realistic Social Media Marketing Goals
One of the most significant problems faced by many businesses engaged in social media is that they have never spent the time to set relevant and realistic social media marketing goals. They know they need to be on social media, but they have no idea why they are there.
Of course, your social media marketing goals need to fit into your business planning as a whole. Ideally, you will have set strategic goals for how you want your business to progress. Your social media marketing goals should complement your overarching business goals.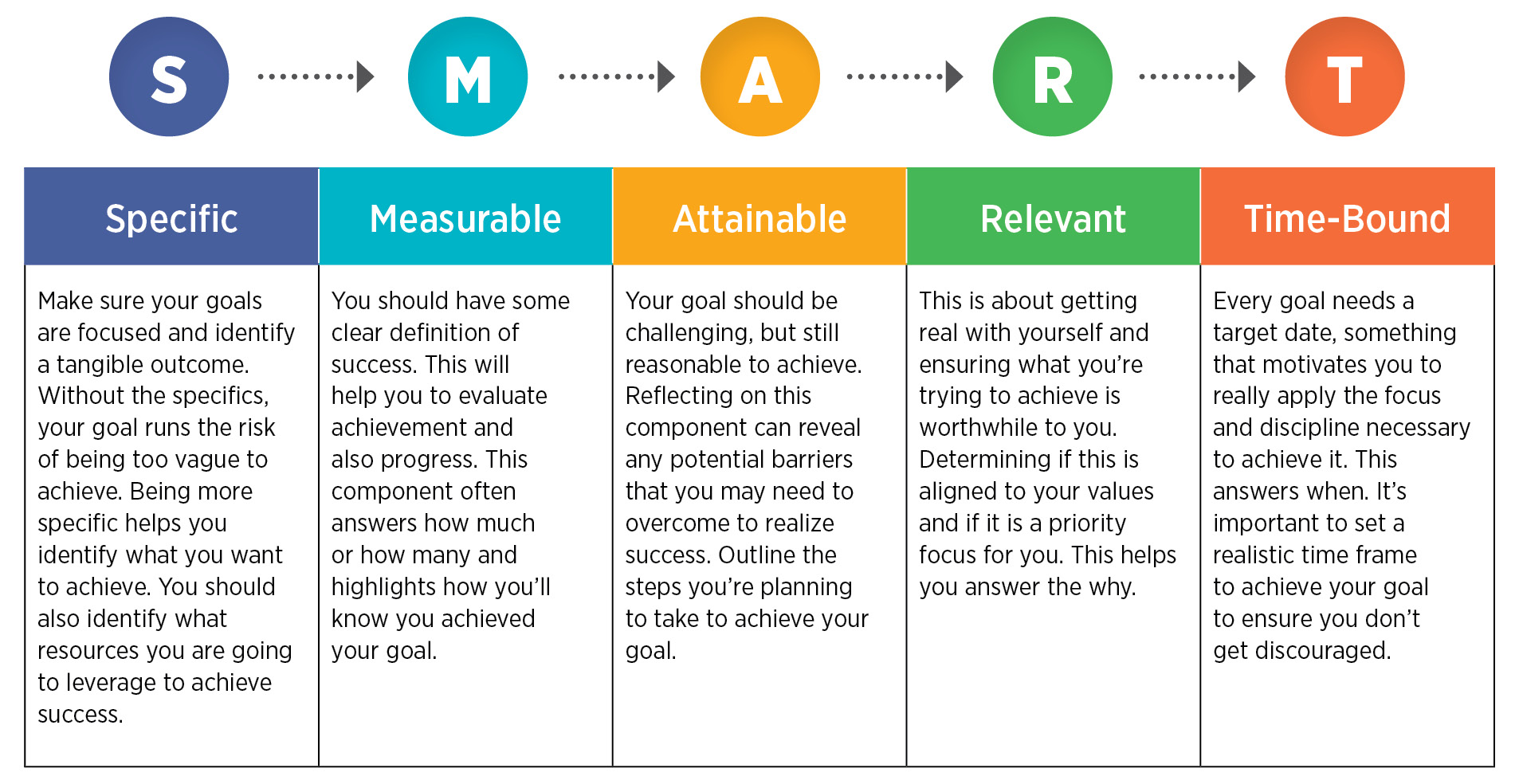 Source: https://cmcoutperform.com/setting-smart-goals
Make Sure Your Goals Are SMART
All too often people set woolly business goals that have little meaning if you scrutinize them. Remember, you're not creating goals merely for the sake of it. You are building them to help you devise the most suitable social media strategy for your business. Therefore, you will want to ensure that your goals are:
Specific

Measurable

Attainable

Relevant

Time-bound
The SMARTer your goals, the more likely you will be able to meet them – and just as importantly, know that you are meeting them.
While you want to challenge yourself, it is essential that you set attainable, realistic goals. You might love to have one million Facebook followers, but that is unlikely to be attainable within the next year for most businesses, even those that perform exceptionally well.
This is where it is prudent to set some limitations. Don't attempt to succeed on every social network. There are too many, and you would spread your resources too thinly. You just need to perform well on the same social networks your target market spends their time.
Suitable Social Media Goals Your Business Could Set
Your goals will be personal to your business and complement your overarching business goals. However, typical types of social media goals you could consider (couched in a suitable SMART-style) include:
Increasing brand awareness

Achieving a set higher quantity of sales

Improving your ROI

Driving people to increase in-store sales

Grow your fan base
---
2. Understand Your Social Media Audience
Not all social media audiences are alike. Different types of people use social media in varying ways. If you're going to meet your goals, you need to be using the same social media networks as your target audience. Similarly, if you intend to engage in influencer marketing, you need to ensure that you engage influencers whose audience matches your target market.
You might be a middle-aged executive who uses Facebook. However, if you personally don't match the target market of your business, you can't automatically assume that your customers will also be spending their time on Facebook. Sure, there may have been in Q3 2018, but if you target a young demographic, you are far more likely to reach them on Snapchat or Instagram. However, if your business targets people aged 25 to 34, they make up 29.7% of Facebook users, and are their most common age demographic.
Look at your social media marketing goals you have previously set. Which social channels will best help you meet those goals?
To be successful at doing this, you need to have a solid understating of your customer base. If you have ever established personas for your ideal customers, now is the time to dust them off. What do your customers look like, and how do they spend their time on the internet?
The better you can understand the demographics and psychographics of your target market, the better you will be at reaching them on your social channels.
---
3. Determine Your Most Relevant Metrics
Too many businesses create a social presence and spend time and other resources on using their social accounts, without ever establishing whether they are seeing any success or not.
Unfortunately, social analytics can be a gray area, because they are not the same for every business. Once again, your most relevant social metrics will relate to the goals you have set yourself. The Influencer Marketing Hub has written a free e-book to help you here –.
Don't be sucked in by easy-to-measure vanity metrics, such as the number of followers somebody has. We have previously written about. The existence of fake followers on any social network means that follower numbers have little value as a metric.
Ideally, you should look at the marketing goals you set above, and determine which metrics will provide you with the answer as to whether you are meeting that goal. For example, if you have a goal that aims to increase your brand awareness, then Post Reach is a relevant statistic. It will tell you how far your content is spreading across social channels.
If your goals are more sales-based, or you want to drive people to take a particular action, then you should take notice of the number of Clicks. Tracking Clicks per campaign will give you a good indication of what drives people to buy or do what you ask of them.
You will often take most interest in the engagements on your posts. This shows how people interact with your content, and whether it resounds with them.
---
4. Investigate How Your Competitors Approach Social Media
Most firms don't operate in isolation. You will usually have competitors who will also run a social strategy. You will definitely need to know what they are doing. What is their focus? Whom are they targeting? What key phrases are they trying to dominate?
You can quickly conduct a competitor analysis to help you better understand their strengths and weaknesses. This should give you a better understanding of what potential customers expect from businesses in your industry.
You might spot your competitors' weak social areas and be able to exploit the gaps. For instance, one of your competitors might be influential on Twitter, but have a weak Facebook presence, despite your target market using that network. In that case, it may pay you to put more resources into Facebook, rather than competing head to head on Twitter.
You could use a tool like to spy on your competitors and discover their most successful social pieces of content. Once you know what types of content resound for them on which social networks, you can produce and share similar, but better, material.
The types of content that perform well on social media may surprise you. One of the five most shared posts on the Influencer Marketing Hub on Facebook this year is, which people have shared more than 450 times. This is surprisingly high for an article about a niche social network.
---
5. Create Suitable Content to Share with Your Followers
Of course, to be successful on social media, you will need high-quality content to share. One of the biggest mistakes that businesses do is to share excessive promotional material. Remember social networks are designed to be social – they were never intended to be a marketplace for you to sell your products.
Therefore, you need to balance the content you share socially, to be a mixture of informative and entertaining items, with a small percentage of promotional material added in. You will also need to like and share other peoples' content.
This is probably the most significant reason that most influencers gain that status. They know their audience well and create the perfect content to interest their followers. As a brand, you need to do the same.
If you have previously determined your goals and discovered what works (and what doesn't) for your competition, you should have a reasonable idea of the type of cornet that will resonate for your target audience. There is little point creating content for other types of people, who will never help you meet your goals.
There are you should ask yourself when creating content:
What is the optimal character count per social media channel?

What is the number of hashtags for messages on each social channel?

Should I be using emoji in my social media messages?

What is the best content type for each channel?
Don't forget the importance of images and video. is more than 40 times more likely to be shared on social media than other types of content. Instagram has rapidly grown in importance over the last few years, and it has a significant visual focus. Top brands on Instagram report a. That is 58 times higher than on Facebook and 120 times higher than on Twitter.
Each year, video content appears to increase in popularity, too. According to YouTube, mobile video consumption grows by 100% every year. 64% of customers say they are more likely to buy a product online after watching a video about it.
---
6. Engage With Your Audience
People don't just go onto social networks to read, look at, or watch content. They go online to interact with other people and to be social. Successful businesses do not just broadcast to their social audiences. They engage with them too.
This is why you should not attempt to cover every social network unless you have a very diverse target market and an army of personnel dedicated to this task. By focusing your attention on the social networks your target market frequents, you can use your resources efficiently.
Some firms have found it very useful to create custom hashtags. Not only can these encourage discussions and sharing, but they also make it easier for you to search for posts that reference your business.
Ideally, you should respond to all social mentions of your business and demonstrate that customer care is a priority for you.
---
7. Establish the Best Times to Post and Set up a Content Calendar
While you could manually make all of your social posts, that is inefficient, and may not lead to the best results. Most of the social networks now use some form of algorithm to filter the results they give people. This means that if you post at a different time to when your target audience is online, they may never see your content.
Ideally, you will want to use one of the social scheduling tools so you can set up and organize multiple posts at the same time. We have previously looked at. You're sure to find that at least one of these will make your life easier.
There are differing opinions over the number of posts you should make on each network each day, and the best times to make them. CoSchedule has carried out an extensive review of the different sets of survey data, and come up with their based on research.
---
8. Track Your Results and Adapt
Of course, no matter how much you plan your social efforts, there is no guarantee that things will work as you expected. If you don't track your results, however, you will never know the success of your social campaigns.
You began the process by setting goals and then determined your most relevant metrics. Therefore, you will want to keep a constant eye on how these metrics are progressing. Are your social campaigns having the desired effects on these metrics?
We have previously looked at. Some of these also provide metrics for other social platforms. Many of the social networks offer their own analytics tools that will provide much of the necessary data. For example, you will find an Insights section for your Facebook page, and Analytics sections within Twitter and YouTube.
Use these tools to track your success. If they show that you are producing popular, well-shared content, create more of that type. If your content doesn't perform so well, take note of what does work, and adapt your social sharing to focus on the kind of material your followers preferred.
You could also consider surveying your social audience to discover what they think of your social strategy. Your followers may come up with valuable ideas that you hadn't thought of.
Don't be afraid to make changes if there is a chance that you can further improve your social success.