Do you need to bring some organization to your social media workflow? Looking for tools to help?
In this article, you'll discover three tools to help you better organize social media posting, monitoring, and campaign execution tasks.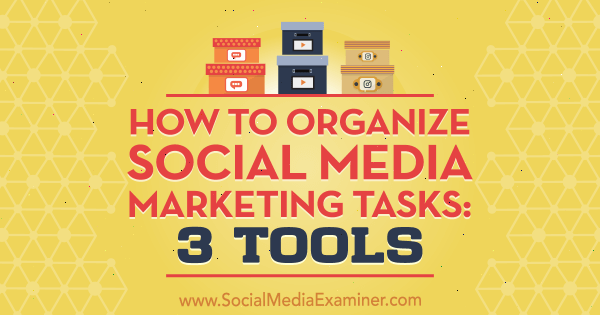 #1: Plan Your Social Media Schedule With ContentCal
One of the biggest challenges for multi-platform social media managers is keeping all of their channels meaningfully active and engaging. Finding content that works and keeping social media accounts updated are keys to building a solid social media presence.
A social media tool like ContentCal can help with this. It's a neat social media editorial solution that helps you manage all of your social media entities using an online calendar and delegating tasks.
To set up your ContentCal calendar, you'll need to:
From there, you can start filling in your calendar with all kinds of updates to make sure you're posting something each day.
Team members can drag and drop their updates into the pinboard, which is your collaboration center. Moderators can post comments to the pinboard and add action items and feedback.
ContentCal lets you set up a multi-step post approval process to make sure any errors are caught before the content goes live.
In the monthly calendar, you get a nice high-level overview of how busy your month looks and you can filter the view by channel, category status, and more.
The nice thing about ContentCal is that it's incredibly affordable, with paid plans starting at $12 per month. A free plan is available if you schedule fewer than 50 posts per month and manage no more than four social accounts.
More helpful resources:
#2: Productive Social Media Listening With SentiOne
Social listening and engaging go a long way toward building a positive online image, winning back unhappy customers, and fostering loyalty.
While social monitoring is one of the most important areas of digital marketing, admittedly it's not easy to do. It's hard to scale and delegate. And for bigger brands, it's challenging to catch all of the important mentions and address them in a timely manner.
SentiOne is a powerful social listening solution that makes monitoring much easier through smart alerting and advanced reporting. To set up a new project at SentiOne, you need to register for a free 14-day trial (plans start at $299 per month) and provide your project keywords.
SentiOne has the most comprehensive mention search out there, with no limit on the number of keywords you type in. Here are a few tips for getting the most out of your keywords:
SentiOne will start sending email updates almost instantly. At the top of each email, you'll see a quick summary that includes the overall social media sentiment and how many keyword mentions were found.
Experience 3 days with the best social marketers. Discover the latest tactics and improve your marketing know-how!
The email alerts let you quickly decide whether any specific mention needs attention, how best to respond, and in what type of context your keyword was mentioned.
Additionally, SentiOne generates powerful reports that allow you to measure and compare the effectiveness of your social media marketing tactics and make data-driven decisions. These reports include:
Additional resources: Here are more social media listening platforms to check out.
#3: Create Higher-Level Strategy Checklists With Serpstat
Social media marketing involves a lot of strategic planning that often gets overlooked. Most campaigns follow the same tedious setup process:
To better organize these tasks, use step-by-step checklists to walk you and your team members through the process. Checklists also make it easy to delegate recurring tasks to your team.
Serpstat has a powerful productivity feature that lets you create and repurpose all kinds of marketing checklists, tie them to your projects/sites, and collaborate with your team members. To get access to the checklists feature, you need to sign up for Plan B or higher, starting at $69 per month.
To set up your first checklist inside Serpstat, register for an account and add your site as a project.
Next, click Add Checklist next to your project name. Then select from the available checklist templates (which is what I usually do) or create one from scratch. You can create a checklist, turn it into a template, and then easily put together new checklists with the same set of items.
When setting up your checklists, focus on fostering productivity, mention tools and pages that need to be checked, and add detailed notes. Remember that you only need to do this once.
If I'm adding a Twitter chat checklist for my admins to follow, for instance, I'll include the following items:
Outreach Stage
Confirmation Stage
Scheduling Stage
Now, for each Twitter chat, I just need to go to my checklist templates inside Serpstat and create a new checklist with one click of a mouse. Then I simply assign it to my assistant.
There are many more (albeit simpler) checklist management apps, in case you want to check them out, but Serpstat is the only one that's focused on marketing, as far as I know.
Social media marketing can be overwhelming. The fast-evolving technology is bringing new opportunities and new challenges. Apart from the need to be on multiple social media platforms at the same time, there are many more challenges social media managers face. You have to:
How do you manage all of these tasks on multiple platforms with different tactics and form a cohesive social blueprint? There's no way to create an effective social media marketing strategy without getting organized and the three tools above can help.
What do you think? How do you get your social media marketing tasks organized? Do you use any of these tools? What tools would you add to this list? Please share your input and tips in the comments.
There are 17 tracks of content available to you at Social Media Marketing World. Don't miss this event!