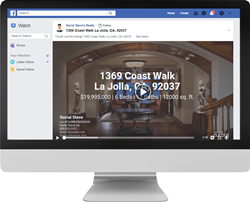 SAN DIEGO (PRWEB)
November 12, 2019
Zurple, the definitive real estate lead nurturing solution for real estate agents, has announced the release of its Social Bundle, with all-new integrated social media marketing features.
The Social Bundle allows agents to create and schedule posts to several social platforms, utilizing listing data pulled directly from the MLS. Initially launching in early October with listing posts to Facebook, the Social Bundle has now expanded to include plug-n-play listing videos, daily IDX listing posts, YouTube posting and more.
Agents using Zurple can now leverage the Social Bundle to connect and convert prospects with enhanced automation and MLS integrations that boost engagement across multiple platforms with fully-integrated social campaigns for listings.
For real estate agents looking to build their pipeline and reach consumers on Facebook, Twitter, YouTube or LinkedIn, delivering engaging, timely content on a consistent basis is vital to lead generation. The new suite of tools in Zurple's Social Bundle helps agents generate social leads, expand their sphere, and build their personal brand with localized and timely marketing.
"With social media increasingly playing an active role real estate agent success, adopting tools that enable agents by automating the leg work that goes into converting leads in the digital space ensures competitiveness in both their local markets and the industry as a whole," said Jack Markham, General Manager of Zurple. "Zurple's new Social Bundle is an incredible value-add for Zurple offerings and a great tool to help our customers maximize their online presence."
"Social media marketing is a key element of managing my lead pipeline and Facebook has become an invaluable tool for me, both as a channel to engage my existing network but also to reach new buyers," said Brandon Doyle of RE/MAX Results and coauthor of M3 – Mindset, Methods & Metrics: Winning as a Modern Real Estate Agent. "Daily posts on listings in the Twin Cities will help me build my following and make sure I'm seen consistently in the News Feed. I'm thrilled Zurple has made it so easy to reach a key audience."
The Social Bundle is now live for all Zurple users.
About Zurple

Zurple provides thousands of realtors with a robust marketing automation platform. Founded in 2009 and previously ranked as one of the fastest growing companies in America by the Inc. 5000, Zurple offers a complete real estate marketing solution that generates leads, initiates conversations, and tracks lead behavior that improves conversion and close rates.
Zurple is part of the Constellation Real Estate Group, which is a division of Constellation Software, Inc. The Constellation Real Estate Group acquires and invests in real estate software brands that are committed to providing long-term solutions and partnerships with franchises, brokers, agents, MLSs, and associations. Over 500,000 real estate agents, teams, and brokerages across North America rely on CREG's products and services to power, manage, and grow their businesses.
For more information about Zurple, visit: https://zurple.com/

For more information on the Constellation Real Estate Group, visit: https://www.constellationreg.com