Oh, social media… home of memes, feuds, and surprisingly entertaining cat videos. 
Know what else is all over social media? Your customers. Which means you and your home services business should be there, too!
I know, I know: You "don't have time to deal with social media. And besides, it doesn't work." 
Au contraire, friends! Social media marketing for contractors does work. Maybe just not like you think it does. In fact, in this article, I'm going to detail for you exactly how social media marketing can work for you and lead to tangible returns, like more new customers, more customer engagement, and ultimately — more money in your pocket.
How social media helps with contractor marketing
Whether you think social media is the best thing ever or the absolute worst, one thing's for certain: People connect with companies on social media every single day.
For example, Sprout Social's research shows nearly 70% of Facebook users like or follow at least one brand. So it'd be good for you to know how to leverage the various platforms to your business advantage.
Before I go too much further, let me mention two key thoughts to keep in mind along the way:
TIP: Don't waste time switching between multiple platforms to run your social media marketing. Start by to your Constant Contact account and manage all of your online marketing in one place.
Not a customer yet?
OK, if social media isn't going to bring you quick, qualified leads, why should you invest any time and energy there? 
So many reasons:
How to get started with social media marketing for contractors
Now that you're convinced social media's worth your time, here's how to leverage it to promote your construction business.
Ready to find more leads and get expert home & building business marketing advice, all in one place?
Step 1: Reserve your business name on all the major social channels
Notice I did not write, "Start posting on all the major social channels." Just reserve your name so it's yours when (or if) you're ready to start using a particular channel. 
For home services companies, set up these accounts in this order:
For home builders, the most effective approach is:
Regardless of the channels you use, keep in mind the ultimate goal of social media for the construction industry: Generating awareness, action, and engagement you wouldn't have gotten otherwise.
Step 2: Choose a channel and start engaging with your audience
Again: A channel. One of them. You don't need to be active everywhere right away, and trying to be will undoubtedly leave you overwhelmed and fed up. That means you'll wind up with inactive social accounts, and that's arguably worse than having no accounts. 
Keep in mind it'll take some time to build up an audience, so be patient and just keep posting. 
Step 3: Post strategically
Despite all evidence to the contrary, social media isn't only a repository for random garbage. Rather, social media can become a growth engine for home services and construction businesses when they post content that accomplishes three goals:
Step 4: Develop a content calendar
Part of the reason business owners get overwhelmed by social media is they struggle trying to figure out what to post. Developing a general content calendar ensures you won't have to sit and watch your cursor blink while you're racking your brain for some creative inspiration. 
Here's what a social media content calendar for a home services business might look like:
Step 5: Match your post to each platform's personality
Many businesses make the mistake of duplicating the exact same content across multiple social media channels. I don't blame them for wanting to save time; it's just not the most effective strategy. Why?  Because each social media channel has its own unique "personality." You can use the same theme, but be sure to modify your posts to suit each channel. 
You can see an example of what we mean by following Netflix on Facebook and LinkedIn.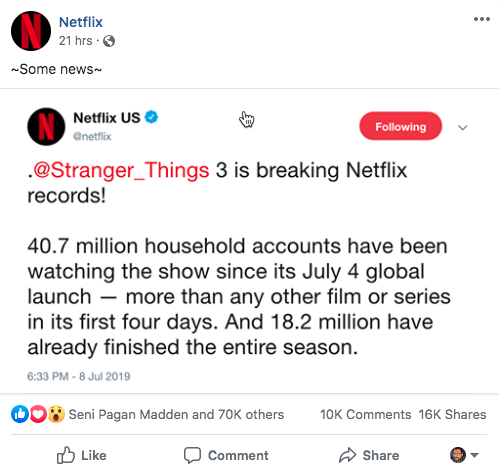 The content and updates the company shares on Facebook focus on show information for consumers, whereas updates on LinkedIn focus on the business of running Netflix.
Let's do a quick comparison of Facebook for contractors and Instagram to illustrate this point for the construction and home services industries specifically.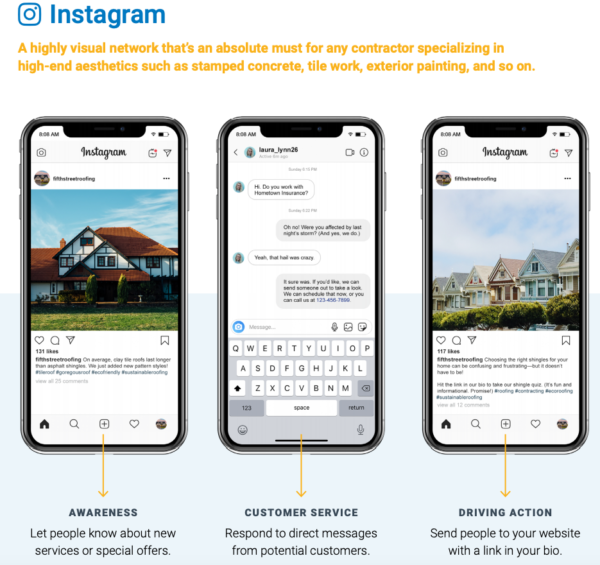 To see examples of how to build awareness, serve customers, and drive action across the other channels I've recommended — YouTube, Twitter, Houzz, and Pinterest — download our free online marketing guide.
Step 6: Celebrate as your business grows!
Social media is a crucial element in your contractor marketing arsenal. Engaging with people on social platforms ultimately moves them to your website… so you can build your email list… so you have a list of contacts you own… to drive business. Winning!
Get our free guide to online marketing for home & building services
Want more online marketing ideas for your home services or construction business? Check out .