Social media platforms are overloaded with content. Instagram users create 95 million posts per day. Facebook users publish 350 million photos per day.  Twitter users send 500 million tweets per day.
Statistics are impressive, aren't they? If you want your digital marketing strategy to succeed, you should make your posts to stand out. Here are a few tips for you that will help you to hit this goal.
Watch Trends
If you want to create the best content, you should have a good understanding of what posts are trending on social media. You should take a look at Explore Page on Instagram, and Trending tabs on Facebook and Twitter. You should analyze the trends and get an idea which topics are worth discussion.
It will help you to create the most relevant content. It will help you to grab the followers' attention and boost engagement.
Start a Dialogue with Your Followers
To engage the audience, marketers tend to ask the audience questions that require a simple answer like "yes/no", "agree/disagree", "1st option/2nd option", etc. However, this approach doesn't work perfectly. Using this approach, marketers encourage users to interact with the post only once.
The better way to engage the users is to ask the questions that require a more meaningful answer. It's important is to show your followers that you want to know their opinions.
Here is an example. Don't use the captions similar to this one:
"I watched Five Feet Apart, and I liked it. Have you guys watched this romantic movie?"
Rewrite it in this way:
"I watched Five Feet Apart, and this romantic movie impressed me a lot. I fell in love with the main character, and I think that the plot is just fabulous! What do you think about this movie? What did you like about it? If you can recommend the films similar to this one, you are more than welcome."
Come up with a Caption First
If you find it challenging to come up with catchy captions, here is a tip for you. Write the caption first and create visual content second. Use this reverse method of content creation to articulate your ideas more clearly.
It will help you to produce more meaningful content, not just funny pictures with senseless captions. As a consequence, it will allow you to build a stronger relationship with your followers.
Think out of the Box
Every new post you create should differ from the previous one. Don't post too similar photos. And don't use the same captions. Be different, and you will win the audience attention.
Try to think out of the box and create something brand new. Surprise your followers with original social media posts and witty captions. Make sure that your target audience doesn't find your content monotonous and boring.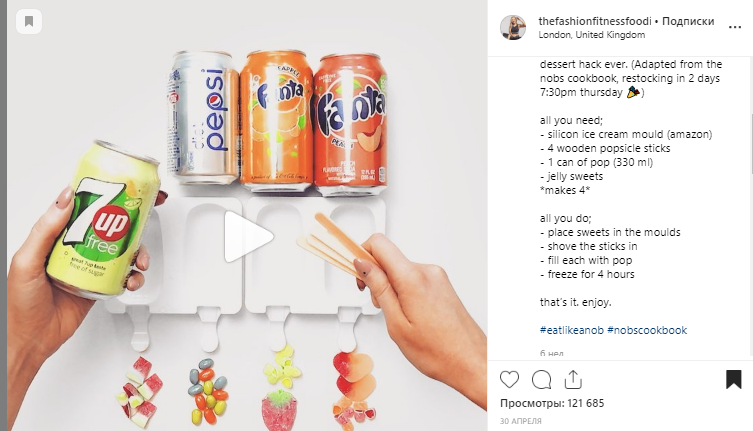 Screenshot source: https://www.instagram.com/p/Bw48MdJFesY/
Analyze Feedback
If you want to succeed, you should listen to what your followers tell you. You should read all the messages and comments you receive.
It will help you to identify the questions your audience has. Consequently, it will give you an idea of what topics are worth discussion. Once you provide your followers with content they really want to get – they will reward you with high engagement.
Screenshot source: https://www.instagram.com/p/BydfJaJFgId/
Make Use of Humor
Most people use social media to entertain themselves. They don't want to read heartbreaking stories that make them cry. They want to watch funny cat and dogs videos that make them smile.
No matter which niche you work, you should make use of humor. It will attract the users' attention and make your content go viral.
Screenshot source: https://www.instagram.com/p/ByH9Ym-CUOR/
Utilize Tools and Services
If you want to create high-quality content, you should use professional tools:
Recommended: 7 Best Tools to Make Social Media Videos
In Conclusion
The competition among social media content creators is getting fierce, and you should look for new ways to engage your target audience. You should add more value to your content and ensure its highest quality.
Social media users are getting picky, so you should do your best to meet their expectations. Work hard, use your imagination, listen to your followers – and you will achieve what you want.
The post 7 Tips to Create the Best Content for Social Media Marketing Posts appeared first on Visual Contenting.