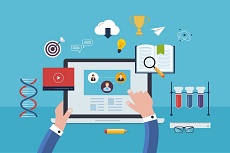 Almost every big company is using videos to market their products. Due to the stiff competition, it is hard to get conversions from the videos. However, it is still possible to be successful in video marketing if you do everything in the correct steps and have a strategy plan in place for your video marketing campaign.
Upload It on YouTube
If you create any video, you should first upload it to YouTube. YouTube is best for beginners who are just start out in video marketing. Since it get more than 1 billion visitors every month, your video can easily get viewed if you target the right keywords and niche. Other platforms have lesser visitors so you will have to try harder to get views for your video. Seeing your video getting some views can increase your confidence to make better videos.
Compress Your Video 
The video needs to be compressed before you upload and share it online. If you did not compress it, it will take longer to upload. Even if you successfully uploaded it, it will take longer for the video to load on the video sharing platform. Uncompressed video can take up extra bandwidth and CPU which cause the browser to hang and also affect other programs opening in the user's computer. You can change video format by using a video converter. In Free Video Converter, you simply drag the video file into the file drop zone and select MP4 in the video tab to compress it. When the conversion is completed, it will show you the folder where the converted video is saved. The program provides a built-in video editor for making some necessary changes to the video prior to conversion.
Create a Video with Compelling Content
Creating a compelling video content that people want to watch will enable your video to consistently get views for years. In the video, don't just focus about telling people about your products. Instead, think of using a story that give away useful information while promoting your product at the same time. The audience will have a good feeling when you are sharing something and become persuaded to explore your products.
Use Video Thumbnails
Video thumbnail is an integral part of a video marketing. If you don't use thumbnail, it will only show the beginning part of the video in the search result. If you look at YouTube homepage, you can see that all the videos that are featured have thumbnails. The thumbnail is a photo that tells people what the video is about. Some people like to use thumbnail to exaggerate the video content.
Keep Video Length Short
Marketing video should be kept short because customers have short attention span. It is not like a movie where people are willing to spend 1 – 3 hours to sit in front of the computer to watch it. You can break a long video into many series to allow people to watch slowly and assimilate the information in their free time.
Optimize Your Video with Keywords
If you want to rank on YouTube, you must know how to optimize your video content on a targeted keyword. Videos always rank high on the major search engine results so you should optimize your content with keyword before uploading. The keyword can be integrated in the title, description and tags.
Add a Call to Action
In the video, you can put a call to action graphic at the corner of the video that state the website URL or ask people to subscribe to your channel. In your video description, you can also include the same call to action information. At the end of the video, you can create an ending screen with call to actions, for example putting a list of relevant videos for the audience to visit.
Promote Your Video
When you finally upload your video, don't forget to share it on your social media accounts. Aside from sharing it on the social media, you should also take other actions to promote it. You can get some blogs to point a link to your video. Having other sites pointing to your YouTube video allow Google to pick it up and get it indexed faster in the search result.